Al via dall'11 novembre il Search and Social Media Marketing Expo, l'appuntamento più importante a livello internazionale sul Digital Marketing: 3 giorni,  25 sessioni interattive, oltre 50 Key-note speakers  internazionali, 2000 partecipanti.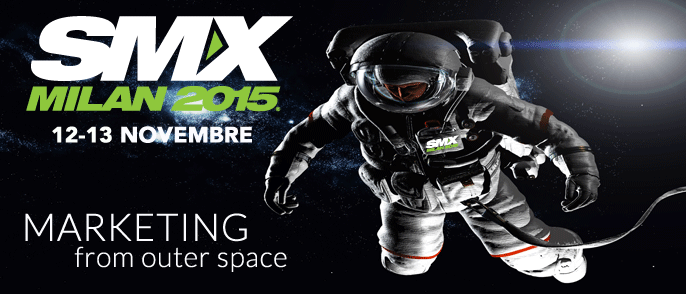 Il  Search and Social Media Marketing Expo (SMX) tra i più famosi e attesi eventi internazionali del marketing digitale, organizzato da Business International – Fiera Milano Media, in collaborazione con Third Door Media, torna a Milano  dall'11 al 13 novembre (Hotel Melià Milano).
3  giornate di formazione e aggiornamento professionale con oltre 50 tra i massimi esperti di digital marketing a livello internazionale per la prima volta in Italia per confrontarsi su  Search Marketing, Social Media, Mobile, Content Marketing, Visual Storytelling, Web Analytics, Customer Experience.
Rivolto a manager e professionisti di tutto il mondo, SMX si è affermato negli anni come punto di riferimento nel panorama internazionale, non solo per l'alto profilo di speaker e case studies ma anche e soprattutto per l'elevata qualità degli argomenti approfonditi attraverso conferenze, workshop, sessioni e incontri di networking.
Tra gli appuntamenti da non perdere i keynote di Jeffrey K. Rohrs, ex VP di Salesforce,  Maile Ohye e Johannes Müller da Google, Andrea Lai da Facebook,  Andre Alpar, CEO di AKM3 GmbH, Chris Bennett, CEO di 97thFloor, Lin Huang, Group Data Scientist Manager di Microsoft.
I contenuti dell'evento sono curati e selezionati da esperti di riferimento del marketing internazionale come Danny Sullivan e Chris Sherman founders e autori di  Search Engine Land e Marketing Land, 2 delle più note e autorevoli testate online di marketing digitale,  e Sean Carlos, Conference Chair dell'evento e consulente e docente internazionale di Marketing.
Tra le più importanti novità di questa edizione l' Official SMX Bootcamp in programma l'11 novembre, un laboratorio  di formazione con ben 5 sessioni parallele su SEO, Social Media, Local & Brand Visibility, Adwords e Analitycs dedicato a studenti e neoassunti per fornire anche a meno esperti e principianti le basi essenziali per intraprendere o continuare con successo un percorso lavorativo in ambito Digital. Al termine del bootcamp i partecipanti riceveranno l'internazionale "SMX Certificate attendees" che certificherà partecipazione e livello di apprendimento conseguito.
Per maggiori informazioni ed iscrizioni riservate:
Ilaria Biasini – [email protected]
http://www.smxmilan.it/